Book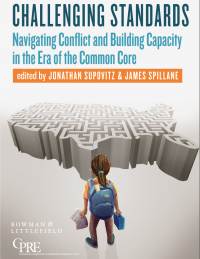 The Common Core State Standards are at the center of the latest struggle in American education reform. But this is not the nation's first experience with standards implementation. In Challenging Standards, Jonathan Supovitz and James Spillane bring together the practical knowledge of top education researchers who have both experienced and investigated education reform challenges in the past. Combining both evidence-based research and applied knowledge, the contributors share their practical wisdom about implementing standards in classrooms and systems, navigating the political terrain, and building capacity through relationships.
Challenging Standards is uniquely designed for educational leaders. Each section also includes a set of focusing questions to promote leadership team discussions and deepen implementation.
Contributing Authors include: Patricia Burch • John B. Diamond • Bruce Fuller • David A. Gamson • Annalee Good • Thomas Hatch • Emily Hodge • Megan Hopkins • Andrew L. LaFave • Carol D. Lee • Kathryn A. McDermott • Patrick McGuinn • Vivian Mihalakis • Jennifer A. O'Day • Anthony Petrosky • Donald J. Peurach • Morgan S. Polikoff • Janine Remillard • James Spillane • Jonathan Supovitz • Joshua Taton
Praise for Challenging Standards
"Challenging Standards is a wonderful double entendre. Just as I was predicting that the CCSS would collapse under its own weight due to massive confusion along come Supovitz, Spillane and their colleagues to provide some pinpointed clarity. It's all here: the standards themselves, organizational matters, what should happen in the classroom, system capacity, the importance of relationships, and navigating politics. Don't go any further on the Common Core without reading this comprehensive guide to unpacking and implementing CCSS."
Michael Fullan
Professor Emeritus, OISE/University of Toronto
"District leaders need smart thought partners as we navigate the constantly evolving standards-based reform environment. The contributors to Challenging Standards help by sharing important perspectives on the practical, political, and philosophical tensions surrounding Common Core implementation. This useful book will help frame district leaders' thinking about key issues that inform the critical conversations that need to occur at every level of districts in order to focus educators on best ways to use standards to support improvements in teaching and learning."
Philip D. Lanoue, Ph.D.
Superintendent, Clarke County School District, Athens, Georgia, 2015 American Association of School Administrators National Superintendent of the Year
"Implementing the new standards calls for a systematic rethinking of the organizations, resource allocations, and culture that make students' and professionals' learning experiences possible. Supovitz and Spillane capture this challenge in a superb 360 degree panoramic look at CCSS implementation challenges at all levels—from statehouses to district offices and down to the schools. This book is a blueprint to shift from what we have traditionally expected from the public schools to what our students need to compete on a global level. The contributors explore CCSS in realistic terms, providing a strong link from theory to practice, in context and action, for leaders across the spectrum of public education."
Mark Shanoff, Ed. D
Principal Ocoee (Florida) Middle School, An Apple Distinguished School, National Distinguished Principal, State of Florida, President-Elect, Florida Association of School Administrators
"Wow, what a useful book! Every policymaker urgently needs this book's concepts, comprehensive components, and detailed roadmap to help create successful implementation of Common Core in systems, schools and classrooms. Supovitz and Spillane have assembled a set of authors whose essays bring together a rare combination of evidenced-based research and effective practical applications that can be tailored to bring standards implementation to life in various school and district contexts."
Michael Kirst
President, California State Board of Education, Professor Emeritus, Stanford University.