Sade Bonilla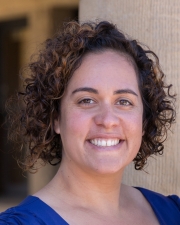 Senior Research Specialist, CPRE & Penn GSE Assistant Professor
University of Pennsylvania
Areas of Expertise
Contact
sadeb@upenn.edu
Sade Bonilla draws on her expertise in economics of education and education policy to understand the transformational potential of contemporary education policies for marginalized youth and their communities. Dr. Bonilla's research interests include local and state policies affecting transitions between high school and college and the labor market. She engages in research–practitioner partnerships to produce actionable research for schools and policymakers. Dr. Bonilla is the lead author of a study on the longer-term impacts of ethnic studies that appeared in the Proceedings of the National Academy of Sciences (PNAS).
Dr. Bonilla was named the 2019 Outstanding Predoctoral Fellow by the Institute of Education Sciences. She received a 2018 Spencer/NAEd Dissertation Fellowship and a 2016 Association for Public Policy Analysis and Management (APPAM) Equity and Inclusion Fellowship.
Professor Bonilla is principal investigator of the "Cost-of-living Grant Pilot on Community College Student Success," a project funded by Arnold Ventures. This pathbreaking study examines the effects of financial aid on community college completion. Through a research partnership with two Massachusetts community colleges, the project will estimate the impact of financial aid on policy-relevant outcomes including educational attainment (e.g., persistence and on-time graduation rates) and examine potential mediators, including academic engagement (e.g., time usage spent studying), students' engagement with college (e.g., use of campus resources, interactions with faculty and advisors), financial stress (e.g., housing and food insecurity), and mental wellbeing (e.g., anxiety, depression, and perceived stress).
She is also a collaborator on the multisite study "Centering Student Voice to Understand the Influence of Ethnic Studies Courses on Students Academic, Behavioral, and Social-Emotional Outcomes: A Cross-Case Mixed Methods Collaboration," funded by the William and Flora Hewlett Foundation. In this study, Professor Bonilla and her collaborators are partnering across three Research Practice Partnerships (RPPs) to conduct a mixed method study of the relationship between ethnic studies and academic, behavioral, and social-emotional outcomes. In addition to examining connections to student outcomes using longitudinal student-level data, this study centers participant voices, specifically uplifting student voices, and observes classroom practices in situ.